Chameleon Blind: Mirror Image
Mara Baker
October 2 - November 15, 2021
Space & Time is thrilled to present Chameleon Blind: Mirror Image, a new installation by Mara Baker. Chameleon Blind is an ongoing body of work combining wood, metal, light, fiber processes and animation to create multi-dimensional paintings in window spaces across the city of Chicago. Over the last five years, Chameleon Blind has had ten iterations including site-responsive installations in both traditional and non-traditional gallery spaces morphing and changing based on the spaces and architecture. For Space & Time, Baker will immerse the gallery, utilizing the storefront windows to create an ongoing experience from the street for the public as day turns to night. Within the gallery, Baker presents a selection of paintings, drawings and monotypes, recontextualizing leftover residues from previous installations, including new work produced through a recent residency at Spudnik Press. Through her thoughtful and cross disciplinary interventions, Baker calls attention to light and color and the ways we experience phenomena and optical illusions.
---
Mara Baker is a Chicago-based interdisciplinary artist and educator. Baker received an MFA in Fiber from Cranbrook Academy of Art and a BFA in Painting and Drawing from the School of the Art Institute of Chicago. She has exhibited both nationally and internationally including Chicago, New York, Santa Fe, Minneapolis, Budapest and Toronto. Some notable exhibitions venues include Currents New Media Festival (Santa Fe NM), The Soap Factory (Minneapolis MN), The Hyde Park Art Center (Chicago, IL), Urban Institute for Contemporary Arts (Grand Rapids, MI) The Luminary Arts Center (Saint Louis MO) and Cranbrook Art Museum, (Bloomfield Hills MI). She has been the recipient of artist's grants and residencies from Hambidge Art Center, Haystack Mountain School of Arts, The Vermont Studio Center, City of Chicago Department of Cultural Affairs, Center Program Residency-Hyde Park Art Center (Chicago, IL), HATCH Residency-Chicago Artists Coalition (Chicago, IL) and the Acre Project Residency, (Steuben, WI). Her work is in the permanent collection of the Detroit Symphony Orchestra. Baker is Associate Professor and chair of the Visiting Artist Series at the College of Dupage, a nationally recognized community college serving the greater Chicago area.
www.marabaker.com
This exhibition is presented in partnership with the Terrain Biennial. More informationcan be found at
terrainexhibitions.org
Chameleon Blind - Mirror Image
, 2021
Black light, mosquito netting, wood, steel, rope, spray paint and iridescent window film, collaged video and other found and recycles materials. Dimensions variable.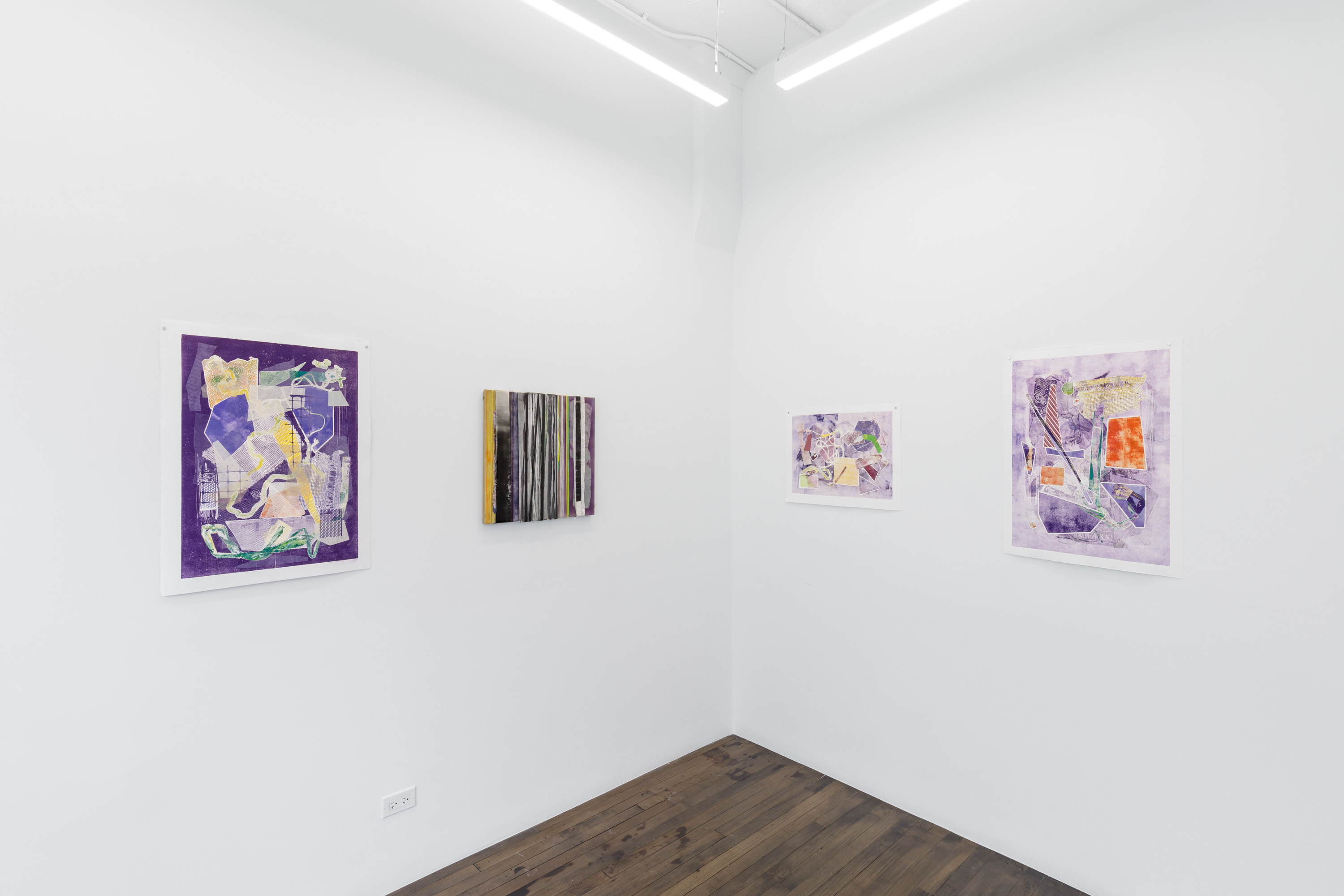 Remnant (purple run 1), 2021
Monoprint, 22 x 30 in
Split Stack, 2020
Acrylic, naturally dyed fiber, glass and other found residues on linen, 20 x 20 in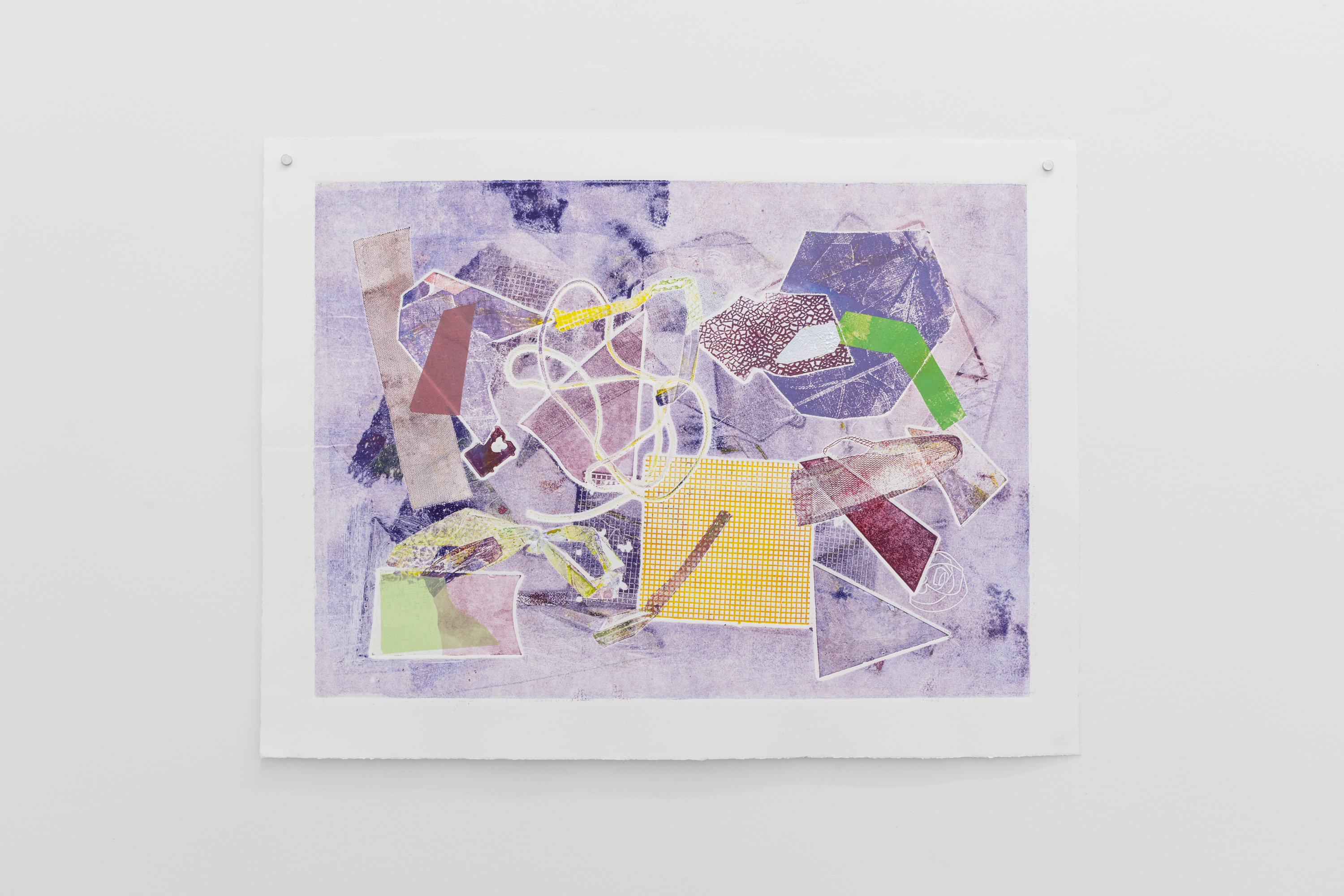 Chameleon Blind Remnant (8), 2021
Monoprint, 18 x 24 in
Remnant (green run 2)
, 2021
Monoprint, 22 x 30 in
Chameleon Blind Remnant (9),
2021
Monoprint, 18 x 24 in
Remnant (green run 4)
, 2021
Monoprint, 22 x 30 in
Remnant (green run 3)
, 2021
Monoprint, 22 x 30 in
Remnant (purple run 4)
, 2021
Monoprint, 22 x 30 in